Cleaning Tips & Staging Your Home for Sale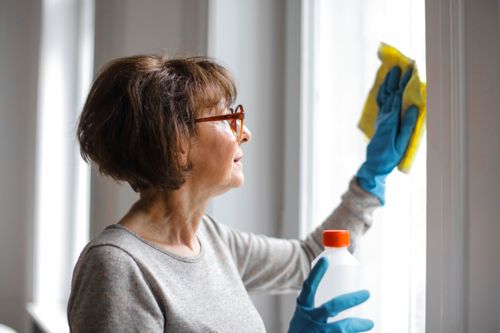 When preparing a home for sale, remember that clutter-free is not the same thing as clean. Put on the rubber gloves and get ready for some cleaning! Staging your home for sale is more than just putting away personal items and polishing up the appliances. Everyday clean just isn't enough to prepare for an open house.
Staging Your Home: How to Clean
Standards for clean vary from person to person, but it's not likely that a buyer will be discouraged by a house that is" too clean". It is much better to err on the side of cleanliness when trying to sell a home. A clean house gives the impression that a seller cares about his home. Buyers will be looking hard, so it's important not to miss a thing.
&nbsp • Doors - The front door is the first impression. If there are scuff marks, smudges, and fingerprints on the door, that first impression is a negative one. For fiberglass and other synthetic doors, a damp sponge will usually do the trick. Simply rub the black marks away and dry with a towel. The wood polish will do the same for wooden doors.
&nbsp • Ceiling fans accumulate large amounts of dust on the tops of the blades. Use a step ladder and damp cloth to wipe the blades from the center outward. If this has not been done in a while, be prepared for large quantities of dust to fall. Alternately, a lightweight vacuum with a dusting attachment can be used.
&nbsp • Carpet cleaning - While you can rent carpet steamers, or even buy your own, this job is done best by professionals and is worth the money if your carpet does not need replacing.
&nbsp • Baseboards and window sills - The dusting attachment to the vacuum is perfect for dusting the baseboards and window sills but may not be enough. Run a damp sponge along the tops of the baseboards to pick up any remaining dust and wipe away scuff marks. An old paintbrush makes a handy tool for cleaning around windows.
&nbsp • Light switches - Oily fingertips are touching those light switches everyday. Disinfectant wipes are an easy way to clean any fingerprints while disinfecting at the same time.
&nbsp • Under appliances - Under the oven can get particularly dirty if it has not been cleaned regularly. Other appliances to check are the refrigerator, washer, and dryer. Appliances are heavy and may require two people to move and clean.
&nbsp • Cleaning windows - Grimy windows give everything a dulled look. It filters the light and makes even the cleanest home appear dingy. A high-pressure wash on the outside will remove the worst of it. Using newspaper and glass cleaner will do the rest.
&nbsp • Tile & grout - For cleaning tile, use a gentle cleanser that won't scratch but will dissolve soap build-up. For cleaning grout, a firm toothbrush dipped in a mold & mildew eliminating cleanser will usually do the trick. Properly sealed tile is important to avoid unsightly build-up.
Cleaning House and then Keeping it Clean
Realtors advise not only cleaning but depersonalizing and detaching from your home. When you are still living in the house, that may not be so easy to do. In fact, just keeping the home ready for showings on a moment's notice can be a challenge. Below are some tips to take some of the stress out of living in a home that needs to appear vacant.
&nbsp • Pack and store items that you do not need while the house is on the market. Avoid clutter by simply having less stuff in the house.
&nbsp • If the bed is being slept in, avoid using fussy bed coverings. Something simple that is easily made up will save time and still look great.
&nbsp • Use paper products. Paper plates and cups in the kitchen are helpful for avoiding unnecessary dishes with drinks, quick snacks, and/or small meals. A roll of paper towels in each bathroom will keep your "good towels" unused and ready for viewing while liquid soap on a coaster will avoid dribbling soap messes.
&nbsp • Keep disinfectant wipes handy for quick clean-ups. Counters, doors, light switches, and, of course, kitchens and bathrooms, can use a quick once-over between cleanings.
&nbsp • Decorative boxes and/or baskets in every room and strategically placed are great for storing items out of sight. TV remotes, mail, slippers, magazines, and any other item that is left in a room and needs to disappear can be thrown into one of these boxes or baskets and potential buyers will never see them.
Selling a home is a stressful experience in the best of circumstances. Finding an experienced agent who won't add to the pressure is the first step in alleviating some of that stress. Click here to learn more about how the right agent can make your selling process worry-free. Sellers should prepare as much as possible before the sign goes up. The first impression is the only impression when selling your home.
Before Moving Out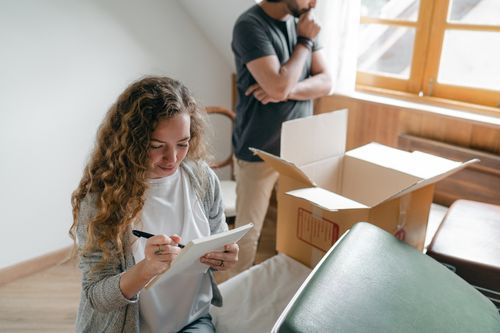 Moving out of the property is the last critical step in closing a real estate transaction. Monies have changed hands, title to the property has been conveyed by the attorney, and the stage is set to hand over the property to its new rightful owner, the Purchaser. If you drag your feet and delay the process of vacating the property, that is moving out, even unintentionally and through no fault of your own, you will inevitably find yourself in a position where a financial penalty may be levied against you by the Buyer's attorney.
This is not a good situation, the Purchaser has paid for, and expects to have the property to move into. If they cannot have their new house to move into, then that means that there will definitely be damages owed to them. These Purchasers will have to stay, most likely, in a hotel until you leave the house that they now own. Further, they may have scheduled some contractors to do some work in their new place, and now this work will have to be rescheduled. All of this could have been avoided. The fact that you're still in the house and through no fault of your own is of little consequence to the Purchasers who have paid for, and cannot have their new house. As far as they're concerned, they are homeless and it's your fault.
Don't let this happen to you, plan ahead and check up on your plans to make sure you're not left holding the blame, and the full expense, for this unfortunate and tense situation.
If worse came to worse, it would be better, and less expensive, for you to move your stuff into storage and enjoy a stay in a nearby hotel while you wait to move into your new place, rather than paying for someone else to do it, and supporting the ensuing legal fees to boot.
Here are some things to do that will help to guarantee a smooth moving day:
Once you have made a legal and binding agreement to sell your property, start packing up everything you can. It is never too early to start packing up your house in preparation for a move. Just remember to label your boxes so you know what's inside of them for when you arrive at your new place.
Reserve your moving date with a reputable moving company. Call your movers to confirm your moving date a month in advance, and again the week prior to the moving date.
Have your possessions packed, boxed, and ready to go at least a week before your moving day arrives. The only items that need to remain accessible are the very bare necessities you need to live, everything else should be ready to pick up and move.
If you're renting a van for your move, call the rental agency a week before your moving date to confirm both the vehicle and the pick-up date.
Pack Your Valuables
Pack your valuables or collectibles yourself, and seal the cartons with high-quality security packing tape. This type of packing tape will leave behind a message like "Security Seal Broken" if it's lifted off of the carton once applied. Once all of your valuables are safely packed into cartons, the next thing is to number the boxes 1 of 8 (assuming there are 8 boxes altogether), 2 of 8, 3 of 8, and so on. This will allow you to easily see if anyone of your cartons is missing once you've arrived at your new place.
The cartons containing your valuables should also be labelled so you can easily identify them, however, you don't want anyone else knowing what is inside the cartons, so I suggest that you use a code word label like "Wedding Dishes" for these cartons. The reason I suggest that you use the word "Dishes" is to convey the message that the contents are not to be dropped or handled roughly without giving away the true contents of the carton.
All of your valuables should be packed and ready to go the night before your move. Move them all to the front of the house, but don't load them into your car or van until the morning of moving day. If you have a great number of cartons containing valuables, then it may be wise to arrange for the temporary storage of those items until you can safely retrieve them after you all moved into your new place.
On the morning of moving day, load the cartons containing your valuables in your own vehicle to avoid any unpleasant occurrences.
Another option is to hire a specialty moving company for these collectible or valuable items. For example, hire a piano moving company to safely move all of your musical instruments. They will have the equipment and trained personnel to move such valuables carefully and properly to avoid causing them any harm, and they should be fully insured to protect you from loss in the event of an unforeseen accident. By the way, you should always ask to see their certificate of insurance BEFORE you hire them. Make sure it is up to date, and get a copy of it for your records. You don't want to find out that they weren't really insured to replace your valuables after an accident has happened.
Another important piece of advice with regards to the company's insurance is to make certain that the company's insurance will cover you in the unlikely event that some item gets stolen while the movers are moving your valuables. For example, make sure you are covered if they set a carton down to work inside their truck for a moment and a thief seizes the opportunity to make off with the carton while the movers are distracted.
If you ask anyone who has been robbed, they will tell you that their biggest mistake was thinking that it wouldn't happen to them. These simple precautions will go a long way towards helping you avoid the worry of losing your valuables or collectibles, and having one less thing to worry about is surely worth the effort.
Visit Becky Bauer The Realtor's website for more useful tips and tricks for your move.
Common Moving Scams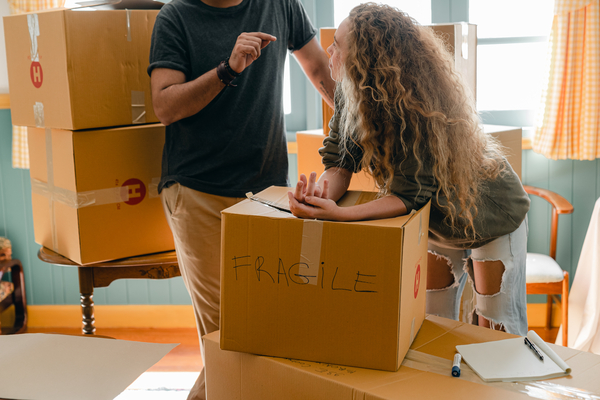 Moving companies typically charge either by the cubic foot or by the pound. Both methods allow countless opportunities for the manipulation of the price quote with no legal recourse for the client. Moving companies employ persuasive sales-people, adept at using misinformation about pricing policies and customer satisfaction. While pitching a potential client, salespeople often claim to be straight forward and in excellent standing with the Better Business Bureau (BBB). Once gaining the client's trust, the moving company asks for either a verbal or emailed list of inventory, responding immediately with a rock-bottom price quote.
False Statements Regarding Accreditation with the Better Business Bureau
One of the more common moving scams is the misrepresentation of one's actual standing with the Better Business Bureau and misuse of its logo. The Better Business Bureau evaluates businesses based on their ethics and performance in order to create marketplace trust. The BBB logo indicates honesty and sound business practices but is often used by moving companies that have not been evaluated or approved. Though the BBB website holds a directory of all their accredited businesses, most people assume that the logo is legitimate and do not check the online database.
Local Moving Scams:
Beware of unlicensed companies, or a' Two Men and a Truck"-type movers listed on craigslist or in local papers. Most of these folks are not licensed or insured and may impose additional hefty charges before, during, or after your move as soon as they have your goods loaded and in their possession. Added charges are imposed for packing, crating, stair carry, and other so-called "specialty fees". The "bait" for these ads is usually to offer a low hourly rate including labor and truck. And in the event of damage or loss, your property will not be insured and you will receive no compensation for any losses.
Since many of the "occasional movers" work by the hour, the job is often extended with slow service during disassembly and assembly of furniture. And inexperience with specialty items like grandfather clocks, pool tables, art, and other delicate items can also lead to damage or breakage, again without compensation to the customer.
Interstate Moving Scams
Cubic Feet Scams:
• The foreman (lead mover) informs the customer that the space between each groove on the floor of the truck represents at least twice the number of cubic feet space actually holds.
• The truck is packed as inefficiently as possible.
• An extremely ambitious foreman will close empty wardrobes and dish boxes, and stack them to use maximum space on the truck.
• In some cases, movers will leave empty space at the back of the truck and pack plywood or wardrobe boxes in front of them, hiding that unused space.
• Boxes are packed as inefficiently as possible to maximize space used on the truck and packing charges.
• Unless you are a math whiz and have ten pairs of eyes, never use this method to move! As clients pay for both packing supplies and cubic foot used, they become particularly vulnerable to exploitation if charged by the square foot.
Weight Scams:
When charging by weight, movers are obligated to weigh the truck before it's loaded and reweigh when the truck is fully packed in order to deduce the weight of the client's goods. To make a large profit, moving companies need to be a bit more resourceful when charging by weight. However, most clients unknowingly waive their lawful right to be present when the truck is initially weighted and weighed after loading when they sign their moving contract.
Movers often weigh the preloaded truck with minimal fuel and after removing all of the necessary moving materials, including moving blankets, hand trucks, and ramps in order to lower the initial weight. Once the truck is loaded with the cargo, the truck is reweighed with all the moving materials and with a full tank of fuel. Most professional moving vehicles store their ramps beneath the belly of the truck. The ramps can be easily detached and usually removed with the other moving material before the initial weigh-in, making the truck at least a few hundred pounds lighter.
Movers may weigh one truck at the initial weigh-in and a heavier truck for the actual move to achieve a greater difference in weight.
In some cases, movers load the truck with additional materials after loading the consumer's goods. A heavy safe is often used in these cases, increasing the weight by more than 1,000 lbs.
Insurance Scam
Every moving company is required by law to have customers fill out an order of service before performing a moving job. The subsequent form that is filled out is called a Bill of Lading, which states the method and rate of payment for the move, as well as any additional charges.
Once these facts are established, the mover takes an inventory of the customer's possessions and begins to label and seal all packed boxes. The inventory form also lists the name of the person who packed the boxes, the condition of the goods being shipped, and any damages.
On the inventory form, boxes are labeled with abbreviations that are typically unfamiliar to the customer, including the code "PBO," which stands for "packed by owner." Moving companies often list PBO on the inventory sheet, items which they do not want to be held liable for, regardless of whether they packed the boxes or not.
The customer usually does not review the details of the inventory list and is asked to sign the company's paperwork only once the pickup is complete. The general rule is that moving companies are not liable for any damaged or lost items packed by the owner; in other words, the federally mandated minimum liability insurance does not apply.
If you are looking into buying or selling a house, visit Becky Bauer The Realtor's website for tips about real estate and assuring your accommodations safely during moving.
Enhance Your Home for Maximum Profit at Sale Time
Enhancing a home for sale is a two-step process that includes creating the best furniture arrangement and adding the right amount of style and accessories.
When staging a home, furniture should be the right size and scale for the room. All pieces need to have a cohesive style. The layout should promote, rather than hinder, traffic flow. In addition, the items should support the function of the room. Buyers will not fill in the blanks. If a room is an office, it needs at the very least a desk and chair.
ADDRESS EACH ROOM
Each room should serve only one purpose. Rooms with multiple purposes confuse buyers and send the message that there is not enough space in the home. Each room needs a strong focal point. What is the first thing buyers should notice when they walk into the room? Some spaces have obvious focal points, such as a fireplace. Others must be created, such as a bed in the master bedroom.
Remove any over-sized pieces of furniture. In general, people often have too many items in their rooms. A good rule of thumb is to remove 1/3 of all furniture items from the room.
Vacant homes must be staged as well. Empty homes feel cold and unwelcoming. Contrary to popular belief, empty rooms feel smaller than furnished spaces. Sellers that have already moved to a new space can leave some items behind until the home sells. Other options include borrowing furniture from family and friends or using a furniture rental company. Many are now offering staging packages that include furniture, rugs, and even accessories.
Once the furniture is placed in the best possible layout, it's time to accessorize – make the home feel comfortable and lived in, but not personal or cluttered. Here are some quick tips:
• There should not be any personal, political, or religious items.
• Collections should be packed away.
• Windows should have simple curtains or shades, which add warmth. Keep window treatments open for showings; this will maximize the amount of light in the room. For windows with unappealing views, consider using sheers.
• Include enough light fixtures in each space; turn them on for showings, if possible. Sellers need to appeal to all five senses.
• Adding a plate of cookies or a pitcher of lemonade will encourage buyers to linger.
• Soft music or a trickling water fountain can add a soothing sound.
• In the winter, nothing is more comforting than a roaring fire.
• In summer, make sure any plants, shrubs, and flowers are well-maintained.
ADDING DECORATIVE TOUCHES
Create vignettes throughout the home. For example, a cozy reading space would include a comfy chair, soft throw, an end table with a lamp and book, and perhaps a pair of glasses and a mug.
Fresh flowers on the kitchen table or even on a table in the entry are a great way to welcome guests.
If the home has a porch, patio, or deck, make sure to display outdoor seating to show buyers how to use the space. A nice touch in the bathroom is a pile of white, fluffy towels in a basket.
Any scents should be subtle and pleasant. Sometimes a scented candle is perfect, even when not lit. Reed diffusers are appealing to both the eyes and the nose. They are offered in a wide range of scents.
The home should look warm, inviting, and comfortable, but not staged, artificial or impractical. One of the worst things you can do is add fake food and drink pieces. A few colorful apples in a basket or a glass jar full of lemons and limes are much more effective – and probably cheaper!
A fun final touch is a small binder with all the repairs and improvements that were done in the last few years, along with some before and after shots. In winter, add some pictures of the yard in spring or summer.
Include local information such as schools, shopping, amenities, and even service providers for cable and phone. Some buyers appreciate information on average heating or electricity costs. Perhaps also include any names and brands of paints and their accompanying rooms. This encourages buyers to start thinking about these things and imagining themselves living in the space.
The goal of enhancing a home for the real estate market should always be to appeal to as wide a range of buyers as possible. Appeal to as many senses of the buyers as possible. People frequently make purchases based on emotion first. They will then rationalize their decisions with logic.
Now that you know how to stage your home, you'll need help selling your home. Visit Becky Bauer the Realtor to learn more about how finding the right realtor can change your selling experience.
Successful Home Staging: Assessing
Give the Home an Honest Evaluation
In order to complete an accurate assessment, sellers need to detach themselves emotionally from their homes. This means looking at the home as a commodity. It is now a product for sale, just like any item purchased at the store. It helps to think of it as a house now instead of a home.
Tour the House like a Buyer
Sellers should conduct a tour of the home as if they were buyers. Tour the entire house as a real estate agent would if showing the home to clients. If this feels silly, invite friends or family members over for a tour. Or, let friends give tours to the owners. This will give sellers a good idea of how others view the house.
Think about the following questions when viewing the home. What are the home's strengths and weaknesses? Are any repairs needed? Are there any uncompleted projects? Is the space warm and inviting? Next, tour the outside spaces with the same critical eye. It can be extremely helpful to take pictures. Flaws become more obvious when seen in photographs. They are also great for before and after comparisons.
Ask for Help
For sellers who have a difficult time being objective, it's helpful to ask a trusted friend, family member, or even a realtor or home stager for help with this exercise. The person should be someone who is honest and not afraid to be frank and direct.
Even for those who are comfortable doing the critique themselves, it's always good to have a second set of eyes. Whenever people live in a space for an extended period of time, they tend not to notice certain aspects or details. For example, they may know that the tile in the guest bath is cracked, but they become so accustomed to it that it doesn't attract their attention anymore. This can be especially true when detecting unpleasant odors. Even pleasant scents can be overwhelming if they are too strong or taste-specific. A visitor will detect these things immediately.
Alternatively, a good realtor can also help you identify the best way to sell your home. Visit Becky Bauer the Realtor to learn more.
Determine the Best Features
Sellers can think back to the reasons they purchased the home. What were some of the home's best features? What features do friends and family love? Make sure to highlight these during the next steps of staging. Features that appeal to many buyers include fireplaces; a large master suite; patios, decks, and balconies; attractive views; updated kitchens and baths; ample storage space; and hardwood floors. What improvements or modifications have been made over the years? These can include updated appliances, new flooring, remodeled bathrooms, or new landscaping.
Identify Negative Features
Some features can be modified or repaired. Others, especially those beyond sellers' control, may need to be downplayed. Sellers can start by asking themselves their reasons for selling. Are the reasons likely to turn off potential buyers? If so, how can they be eliminated or turned into positives?
For example, if the home has become too small, sellers can market the home to first-time buyers or empty-nesters. Things that can't be controlled can often be minimized, such as a home's proximity to neighbors or its location on a noisy street. What areas of the home do most members avoid? Determine why. Perhaps the space is dark, dated, cluttered, or doesn't serve a purpose. In order to come up with solutions, sellers must first clearly define the problem.
Checklists are Helpful
Start a checklist and make notes for each room. This is a good way to stay organized. It is also very motivating to check items off the list as they are completed. Sellers can learn a lot by visiting local homes on the market and making note of the features that stand out to them – both positive and negative. This can make them more sensitive to issues in their own home.
A tour of local homes is also helpful to get an idea of what materials and attributes are standard for homes in the area. Sellers can then use this information to either highlight or downplay similar features in their homes. An extra bedroom or bath would then become a major selling feature.
Some Additional Questions to Ask
The following questions can help sellers address the overall feel of their home. Is the house filled with personal, political, or religious items? This includes collectibles. Does the home have a specific style that is prominent? This may require neutralizing.
Does each space have a dedicated purpose? If not, buyers may not be able to visualize themselves using the space. Are closets, basements, and other storage spaces overflowing with belongings? This may give the impression that the home is lacking storage space.
Take it One Step at a Time
These are just some of the questions sellers can use to assess their homes before putting them on the market. Subsequent articles will deal with how to address any problems or concerns uncovered during the evaluation, as well as how to accentuate the positive features of a home.
How the Interior Appeal of a Home Will Bring a Buyer Back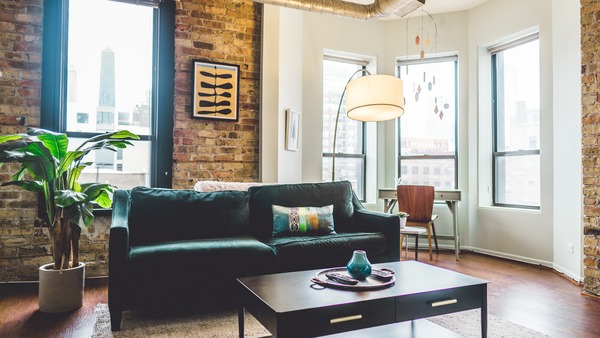 Finding a realtor does not take the burden off the seller. In fact, the curb and the interior of a house should be prepared for sale before it is listed or the price will be reduced as the house lingers on the market. If you've ever found yourself wondering "what is my home worth"? Improving the interiors of your house will make all the difference. A few tips will help the inexperienced seller meet the expectations of realtors and buyers.
Clearing Clutter Opens a Confined Space and Motivates Buyers
Unless the asking price is below market value and buyers know what to expect, clutter is a lack of consideration that curtails a showing. Clutter confuses and prevents a buyer from visualizing his potential new home. An engaging interior keeps a buyer in the house and increases the opportunity of its sale. With this purpose in mind, homeowners can hire a professional stager, or at least begin the process:
Rent storage space
Get cardboard boxes, plastic containers, and decorative baskets
Get rid of clutter
A Place for Each Thing and Each Thing in its Place
To begin is to put things where they belong. If space is crowded, unused or unseasonal items must fill boxes marked for charity donations or the storage unit. Appropriate containers hold magazines, toys, and other unruly items. A negative impression for a buyer is to see things stowed under beds. And, the kitty litter-box belongs in the garage. Taking boxes out of the house as soon as they accumulate will clear the space and the mind, and provides a sense of accomplishment.
Closet Organization Makes a Good Impression
A buyer might target unusual places such as the entry hall closet. Leaving the door ajar can show off a freshly painted empty space. Bedroom closets must lose half of their content. Excess clothing fill luggage to optimize hanging and shelving space. Bins and baskets are acceptable on the floor.
The Kitchen Must Convince a Cook
The most important room shows tidiness and cleanliness. Small items such as magnets, mail, or keys are put away. Instruction manuals bring attention to new appliances. The trash bin is lined with a clean commercial bag. The stove, sink, refrigerator, and oven doors are spotless.
1. Keep counters to a bare minimum
2. Save a set of new kitchen towels for showings
3. Attract good Feng Shui with a bowl of fruit, of a single kind for more impact
The Bathrooms must not Drain a Sale
Cabinets, faucets, vanities, mirrors, lighting, and tubs or showers sparkle. Loose caulking is unsanitary and so is a toilet with the lid up. Toothbrushes, razors, denture containers, or other personal care and cleaning products are out of sight.
Repaint walls in a neutral shade
Remove shower curtains to open up space
Display only new towels, tissue paper, and a new fresh-scented bar of soap saved for showings
Something about the Dining, Living, and Family Rooms
The furniture in each room reflects its purpose. A dining-room used as an office space must be converted back even with temporary furniture. The family-room shelves display no personal memorabilia. Carpets are replaced if heavily soiled. A throw conceals a stain on upholstered seats. The dining-room and living-room are decorated with larger items to enhance visual space. A decorative bowl (or fresh flowers) anchors all tables. Bedrooms convey tranquility. Nightstands and dressers are uncluttered and photographs removed. Children's rooms are tidied with baskets and boxes. Fresh air suggests a good night's sleep.
Home Staging for a Quick Sale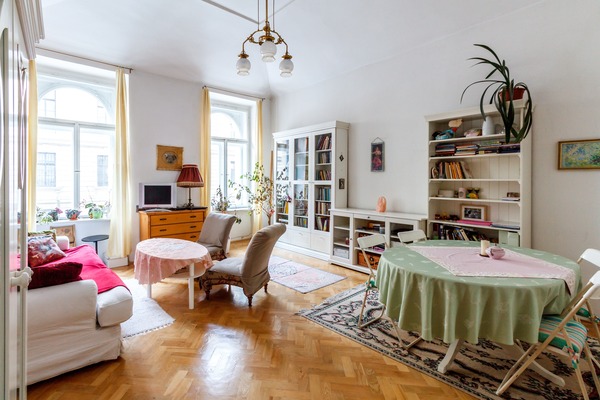 Decorating your Home to Sell
The term home staging refers to a selling technique that leverages the best features of a home. The goal of home staging is to create an environment that any potential buyer would want to call home. Statistics show that most prospective buyers spend about ten minutes touring a house for the first time. Staging can help convince buyers within those ten minutes that they will love living in a home.
Home staging is distinctly different from interior decoration. An interior decorator makes a home more comfortable to live in, taking into account the personal style and preferences of the homeowner. Interior decoration can be expensive and often involves structural renovations. An interior decorator will often make a home more personal by prominently displaying Items that have meaning for the homeowner. This may include collections, family photos, and mementos.
In contrast, a home stager makes a home more attractive to sell. The personal style of the homeowner is removed and the display of personal items minimized. Home staging should not be expensive and if possible should make use of the homeowner's existing furniture and accessories. The idea is to quickly and efficiently turn the home into a commodity that people will want to buy.
The Art of Home Staging
A home stager approaches a home in the same way that a set decorator approaches the set of a play. Potential buyers of the home are the audience. The stager wants to create a scene that will appeal to the largest number of buyers. The mood that the stager creates should be peaceful and relaxing. Most importantly, the arrangement of furniture and accessories should emphasize the best features of the home.
Part of the process of home staging involves removing the homeowner's personality from the home. Personal items are replaced with tasteful accessories that have a universal appeal. The goal is to focus on buyers' attention on the house itself rather than on personal collections and photos. Walls are repainted in neutral colors and furnishings are pared down to a minimum. A home that has been successfully staged will cause buyers to fall in love with the simple, clean lifestyle that it offers.
Once your home is ready for selling, visit link textBecky Bauer the Realtor for a hassle-free selling process.
The Science of Home Staging
A good home stager has insight into the psychology of home buyers and understands that most people are looking for a move-in-ready house that requires a minimum amount of fix-up. Experienced home stagers know how to make a home move-in-ready. They will make suggestions about repairs that should be made and appliances and fixtures that should be replaced before a home is put on the market.
Home stagers understand that showing an empty home is almost as bad as showing a cluttered and messy home. This is why sellers of new home developments always stage a few model homes with appealing furniture and items of décor. When buyers tour a home, they are usually feeling stressed out. Showing them a home that holds the promise of a relaxing lifestyle and that requires no work before moving in will strike a deep inner chord.
The Role of a Home Staging Professional
There are many resources available for home staging advice, including books that describe the home staging process in detail. However, nothing can replace the experience and knowledge of a home staging professional. If hiring a professional to stage your home for sale is outside your budget, consider paying for a single consultation. Most home stagers will charge a reasonable fee for a home walk-through. They will then provide the homeowner with a list of home staging items to be completed.
Some long-time homeowners question the need for home staging. When they bought their home, it was more common to purchase a house "as is." People were willing to take on repairs that would be required to turn the house into a home. With today's high real estate prices, that thinking has changed and most people expect to get the best move-in-ready house for the price. Home staging can help convince buyers that a home offers the best value for the price and that it will enhance their lifestyle.
---
Is Your House Ready to Sell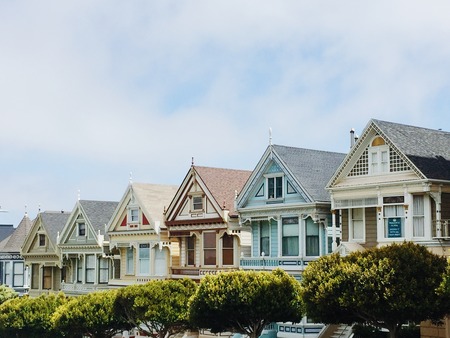 Guide to Preparing for Home Staging
When it's time to sell your house, you may be thinking to yourself, "How much is my home worth"? Are there minor repairs that need to be done on your home? Having a home that is in good condition is a great start to preparing your home to hit the market. A good real estate agent can point out eyesores truthfully. However, a friend of a friend or someone with whom you have no emotional or professional association can give you an even clearer picture of what they see. Perhaps you see a cozy breakfast nook. Your newfound associate sees old wallpaper that clashes against modern cabinets. Here are three great tips to help you get your house ready to sell.
Ugly House
There are many adjectives that you may use to describe your house. Quaint, spacious, but never the word ugly. You may have lost perspective on how your home looks compared to newer homes in your area. Use your neighbor's listings to prepare your house to sell. Your competition does not need to know that you are spying on them. Do an internet search for homes for sale in your neighborhood. Choose results that have pictures and video. Look for houses built around the same time as your house, similar square footage, and in the same price range. Take note of what interior and exterior features the homes have.
Home Organization
Before you can stage your home, it needs to be clean and organized. A good home organization effort will keep your home presentable in the event you have an open house, or have a person want to drop by before they place an offer on your home. Potential buyers can not imagine themselves living in a space that is full of clutter, has unnecessary furniture, or is not clean. Professional organizers can prepare your home to be seen by the public. After your home is properly decluttered, cleaned, and organized you are ready for home staging.
Home Staging
An experienced home staging professional can help you to bring your house up to the expectations of the buyers in your local area. There will be less guesswork when deciding what areas you should direct your monetary efforts toward improving. For example, crown molding, hardwood floors, and stainless steel appliances may be necessary for your home to reach its full potential.
If you had not spoken with a home staging professional, you may have used your home improvement money to upgrade your bathroom. Your bathroom may only need minor cosmetic changes and not a full overhaul. You will not know unless you consult a local home staging professional. It is very important to find out what buyers expect when buying a home in your neighborhood. Understanding these details can help you to receive your asking price. Implementing the changes suggested could help you to receive multiple offers on your home.
Updating your home with professional guidance can help you to get your house ready to sell. Presenting your home properly the first time can save you lost time guessing about what you should improve. Use these tips to help your home sell faster.